Introduction
Beads on purses, shoes, belts, garments, home textile, jewellery, jewellery boxes, toys, mobile covers,
laptop bags … the list is ever increasing.
Given the technology today countries are able to share their ancient beading technique and materials
with each other and come up with newer ways of decorating items with varied kinds of beads and
beadwork.
Historically man has been known to use his creativity to make things more aesthetic. Was it a way to
occupy himself in idle times, was it a way to put to use things that were at his disposal like flowers,
seeds, sea shells, wood, glass etc. or was it the demand of the then affluent royalty to want to wear or
possess things that could distinguish them from others, or romantically was it a way to woo your partner
with beautiful handmade artworks the reason could be one or many but threading beads together and
using it for beautification is one art that is here to stay. From traditional objects to contemporary
fashion and utility items this art has justified itself all along.
There are various different types of beads made from various materials – bones, wood, shells, plant
seeds, ceramic, glass, semi precious stones, precious metal like silver and gold, elephant tusk etc.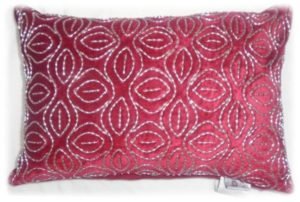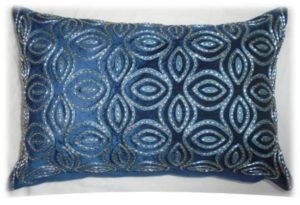 Beading in India



India is among the largest producers of beads in the world .
Kashmiri beads made from man made Resin, these beads have metal frame holders and they withstand heat an are long lasting.
Maruti beads that have silver crowns on both sides of a Kashmiri bead
Lac beads made from insect secretion. The material is manually collected, powdered, washed and heated to form a clay like substance and then made into different geometric shaped beads.
Rudraksha beads are from trees, these beads also hold a very auspicious place in our Indian heritage. Wearing this bead is said to bring good health and positivism.
Meenakari beads are made by artisans called meenakars who make designs on a gold bead and then add color to the same. These beads are then heated and washed with tamarind water  or lemon to give us the beautifully colorful meena (bead)
Tribal beads are made from natural substances found in natures sometimes bones , teeth(elephant tusk), wood etc.
Technique of beading in India
There are broadly three styles of beading done in India depending upon the texture of the fabric .
1. The first method involves the individual stitch of beads onto the cloth which is highly time-
consuming.
2. The second method requires a few beads inserted into a fine needle and then directly stitched
together.
3. The third method comprises the couching stitch wherein beads are placed in a line on the fabric
directly and then bound together by the crouching stitch. In India, this work is called Zari or
Moochi Aari and is used on garments and home furnishings. Whereas in Zari, the beads are
attached to the top side of the fabric where the chain stitch is formed.
We at AJS Living offer cushions using the same Moochi Aari art form of beading. These decorative cushions have beautiful geometric, flower pattern designs handcrafted into different base materials like cotton, viscose
and silk.